---
Seltsi rahvatantsijad esinevad Muhu-teemalise riidekollektsiooni avamisel Covent Gardenis
Rootsi disaineri Gudrun Sjödeni käe all valmivad värvilised, naturaalsest materjalist unikaalsed rõivad ja kodutekstiil.
Tema uusima, Muhu-teemalise talvekollektsiooni tutvustusüritus toimub Covent Gardenis neljapäeval, 24. oktoobril kell 17.00.
Üritusel esinevad ka Eesti Seltsi rahvatantsijad.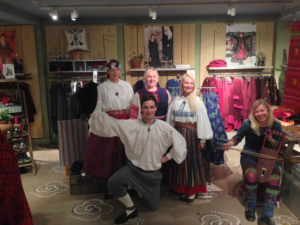 ---
Swedish designer Gudrun Sjödén creates clothes and homeware in unique, colourful designs and natural materials.
This year's winter collection is inspired by Estonian island Muhumaa.
The folk dancers of Estonian Society will perform at their MUHU in-store event in Covent Garden on Thursday, 24th October.