Karolin Otti Soolonäitus "Lähemal armastusele"
Näituse avamine 9. detsembril 18:30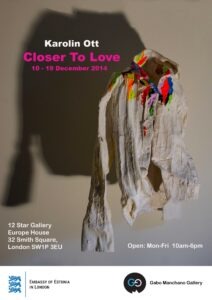 Karolin Otti soolonäitus Lähemal armastusele kirjeldab professionaalseks kunstnikuks saamise lugu ja enese jagamist kunstniku ja noore naise rollide vahel ning nendega seotud identiteetide võitlust. 
Palume registreerida end avamisele vajutades "Attend Event" nuppu kutsel või registreerides end siin. 
Millal: Näituse avamine 9. detsembril kell 18:30, näitus on avatud 10.-19. detsembrini. 
Kus: 12 Star gallery, Europe house, 32 Smith Street, London, UK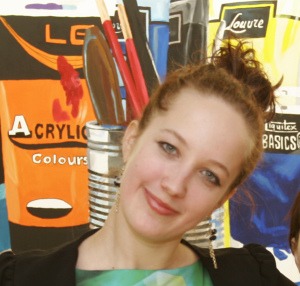 Karolin Ott
Karolin Ott (s 1989) on Tartust pärit vabakutseline kunstnik, kes elab ja töötab Londonis.
2011. aastal omandas ta Eesti Kunstiakadeemia vabade kunstide teaduskonna bakalaureusekraadi maali erialal.
Aastatel 2009-2010 täiendas Karolin ennast vahetusüliõpilasena Portugalis Lissaboni Ülikooli Kaunite Kunstide teaduskonnas. 2011-2012 aastatel elas Karolin Singapuris, kus tegeles T-särkide disainiga ja alustas teise isikunäituse ettevalmistusega.
Praegu keskendub ta üksikisiku sisemise konflikti küsimustele, mis tekivad seoses enda jagamisega erinevate sotsiaalsete rollide ja tegelike unistuste vahel.
---
Europe House will be hosting the debut solo exhibition in London by Karolin Ott. Closer to Love is a personal identity struggle between an artist and a young woman, dividing herself between different roles, and finding a way to become a professional artist. 
RSVP by pressing the "Attend Event" button on invitation or booking your free tickets via Eventbrite. 
When: Exhibition opening on 9 December at 18:30, exhibition will be open 10 – 19 December. 
Where: 12 Star gallery, Europe house, 32 Smith Street, London, UK