Estonian Band Sibyl Vane Performing in London
One of Estonia's most frequent touring band outside of Estonia Sibyl Vane will be performing in London for the first time.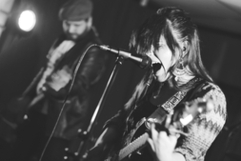 When: 21st of January 8 pm
Where: Buffalo Bar 259 Upper Street N1 1RU. 
In addition to Sibyl Vane, the concert visitors can listen Heymoonshaker and some special guests. 
Sibyl Vane's music incorporates elements of rock, pop and blues, which is usually summarized by critics as indie rock. The band's energetic concerts have gained notice in their native country as well as across the border. Sibyl Vane's singing guitarist Helena Randlaht's charismatic stage presence and unique creation give the performances their mass. Their debut album was released by Latvia's most important record label I Love You Records, which also represented the current most popular Estonian band Ewert and the Two Dragons. 
Tickets: £5 in advance, £7 at the door.